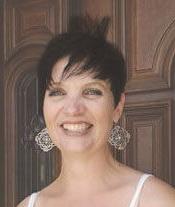 Dedra Elizabeth Langfitt Aguilera
December 10, 1976 - September 9, 2019
Dedra Elizabeth Langfitt Aguilera of Chino passed away on Sept. 9, 2019 with her family by her side. She was 42 years old. Dedra was born to William Benton Langfitt and Dixie (Holt) Langfitt on Dec. 10, 1976 at MacDill Air Force Base in Tampa, Florida. 
Dedra moved to Chino in March 1988 where she attended Doris Dickson and Lyle S. Briggs schools. She graduated from Don Lugo High School in 1995 where she met her high school sweetheart, Ben. Dedra worked for Home Depot, Rite-Aid and retired from the Department of Corrections and Rehabilitation at the California Institution for Women as an office technician. She was committed to her children's sports interest in baseball, soccer and softball. She helped coach AYSO soccer and softball. In 2015, she convinced Coach Jeff Abel to start the annual Halloween costume baseball game at Don Lugo High School.
Dedra had a sweet tooth, loved ice cream cakes, and Vince's Spaghetti. She enjoyed dancing, going to the beach, and having bonfires. Dedra also enjoyed spending quality time with her family and friends. Most of all Dedra loved her children. She was a devoted mother, wife, daughter and friend. Her children were her world.
Dedra is survived by her husband Ben; son Benjamin; daughters Jaeden and Mackenzie, all of Chino; her mother Dixie and step-father Larry Bandy; sister Ashley Langfitt; nephews Cameron, Joseph and Michael; nieces Emily and Alyson Bandy, all of Batesville, Arkansas; nephews Troy Lazalde and Nico Aguilera; uncles, Danny W. Holt (Heidi) of Cave City, Arkansas and David M. Holt (Geraldine) of Batesville, Arkansas as well as a host of cousins and extended family and friends.  She was pre-deceased by her father Army E-8 William Benton Langfitt; her paternal grandparents Army Major Bruce Benton and Lillian Langfitt, all buried in Fort Rosecrans National Cemetery in San Diego; and her maternal grandparents H.W. Holt and Mrs. Trixie Holt; and uncle Daryl W. Holt.
A Celebration of Life will be held 10a.m. Thursday, Sept. 19, 2019 at Calvary Chapel Chino Valley, located at 12205 Pipeline Ave., Chino, immediately following, she will be laid to rest at Forest Lawn Covina Hills, 21300 Via Verde St., Covina.
Dedra, you will forever be deeply loved and missed.