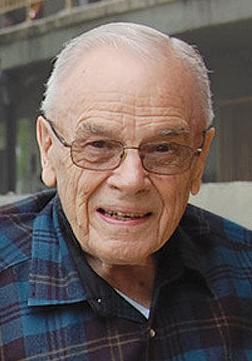 Among the nicest comments I hear are those that go like this:
"I look forward to Saturday morning, when I can sit down with a cup of coffee and read my Champion. And thank you for your column."
People I don't recognize stop me to say how much they enjoy the Roundup. One lady mentioned it in line in front of me at the grocery store. Things like that keep a journalist going, even those who are "emeritus."
Flattery will get you everywhere, but I report such comments with trepidation because there are people out there, even in the business, who are predicting the demise of newspapers. "The upcoming shifts in technology will make the mobile revolution seem quaint in comparison," writes one professional observer.
National Newspaper Week, which starts Sunday, finds the historic print news product struggling in a world full of social and political change. So-called social media seems to have put the role of traditional information in a precarious spot.  Everybody with a phone or pad which transmits messages considers themselves an overnight journalist, putting out "news" that lacks substantiation or editing, one of the key roles of print journalism when people respected it.
 I look at the daily papers I've been reading for 63 years with real concern over the way they're struggling to retain leadership. They are the LA Times and the Inland Valley Daily Bulletin (the latter the combining of the Pomona Progress Bulletin and the Ontario Daily Report, each once strong competitors with a dedicated reporter for Chino). Both have replaced their  local reporters with thinly spread staff, larger space-filling photos, lengthy and opinionated "news" stories and less editing. I can't believe the number of "For the Record" embarrassments run in the Times that in the old days would never have seen print. 
When I came to Chino the Champion was exchanging with a substantial number of community newspapers within a 25-mile radius. Now we're down to one other survivor—the Claremont Courier. It's published by the same dedicated family (Weinberger) that was at the helm 63 years ago, the reason it has stayed alive.
One recent survey said 1,300 American communities lost newspaper coverage in 15 years. How sad for America.
Coverage in the West End by other newspapers is suffering. It took our local daily three days to report in print last week the death of a prominent Montclair council woman.  In one issue it gave more prominence to a restaurant opening in San Bernardino than to more important things in our area. The Bulletin has been placed in a subservient role to the San Bernardino Sun, which with the Riverside Press Enterprise is one of the area groups now trying to compete with the Times. Look to see where its letters to the editor are from.
Their editors seem more interested in stories about restaurants and donut shops than council meetings and school board actions. Or at least they think their readers are. Maybe so, but reporting what local government is doing is essential to our democratic system and our local independence.
Today, everyone from the president to a homeless person on the street "publishes" their views, often without second thought, often badly misleading people with slanted, emotional or politically-inspired information, giving news media in general a bad reputation. 
Dependable news is like good medical care, it takes professional training, experienced vetting and reliable sources that you know. Social media can teach bad habits, and young people in particular are picking them up with gadgets. Facebook, YouTube and a host of other electronic information sources are giving legitimate newspapers a bad name because the "publishers" of information on those platforms are making believe they are reporters and editors, when they often are just modern versions of the old back fence gossipers. Gossiping is fun and entertaining and gives rise to social contacts away from face-to-face intimacy. But for valuable information, stick with professionally written and edited print media.