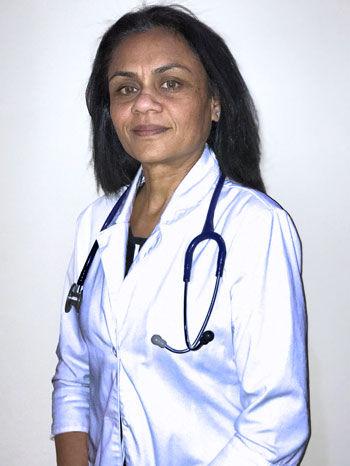 When she's not working, she is running. Dr. Desai stays active, runs nearly 25 miles every week, indoor and out. And, finds time to participate in events that encourage healthy behavior, healthy living. She shared healthy lifestyle is a habit, so she can't find any excuses to skip.
Dr. Desai began practicing in private practice over 17 years ago. She completed Pediatrics residency at King/Drew Medical Center in Los Angeles. She is board certified and holds privileges at Foothill Presbyterian, Glendora, San Dimas Community and Queen of the Valley, West Covina hospitals. She speaks six languages and shared that she feels her brain grows whenever she learns something new.
She is a caring and passionate individual who stuck to her passion though her supervising attending encouraged surgical field. She shared seeing a newborn from their very first breath to young adulthood keeps her feeling young and she enjoys helping parents keep them healthy. Above all, she enjoys kid's perspective on life. She says being silly, joking around with her patients is her work.
She encourages parents to learn and understand their children and give them opportunities to try things on their own, trust them, and listen to them. She tells parents to not worry so much. Parents today go into permanent state of anxiety, she says. She encourages parents to trust their pediatricians as trusted caregivers. She makes every attempt to minimize patient office visits and does not keep toys, as she believes that helps in reducing the passing of germs. 
She has offices in Covina and Chino Hills and is available for overall wellbeing, preventative care, nutritional counseling and fitness as well as anticipatory guidance for your children.
See Dr. Desai for your children's primary-care. See her to conduct physical examinations, take medical history, perform general assessment, diagnose and treat conditions specific to children, injuries and infectious diseases. Her office is the perfect place for preventative health needs, such as administering immunization shots and overseeing the general health of your growing children.
Oh yeah, don't hesitate asking Dr. Desai about family weight counseling. It's a fun topic for her. She herself lost significant weight and has helped many achieve amazing results.
Her office is located at 15944 Los Serranos Country Club Drive #170, Chino Hills. Her phone number is (909) 606-4400.