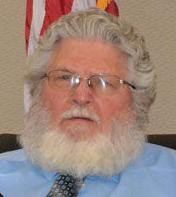 Conversations between the Chino Valley Fire District chief and three-time censured board member Winn Williams will no longer have to be recorded with a witness present after the board voted 4-1 Wednesday to lift another condition from the censures imposed in 2019.
"The censure has been going on for almost three years, and hopefully you guys will find it in your hearts to vote that it is over," Mr. Williams told the board. 
He said he wants to be a "regular board member" without any censures or stipulations but board president Sarah Ramos-Evinger advised Mr. Williams the censures can't be removed. 
Ms. Ramos-Evinger said only the stipulations imposed can be changed and almost all have been removed, including being placed back on liaison and committee assignments, restoring travel compensation and reimbursements for in-person or virtual conferences, and being able to attend fire district events and joint board meetings.
"We've reinstated just about everything. I don't understand what else so if you can clarify," Ms. Ramos-Evinger asked Mr. Williams. 
He said he wants to be able to talk to the fire chief and with fire district employees. 
Board member John DeMonaco voted no to remove the stipulation and the board advised Mr. Williams that speaking directly to employees should still be approved by the fire chief, a stipulation all board members follow. 
"I'm comfortable with the communication directly with the fire chief, but I'm not sure I'm comfortable at this time with direct communication with staff without the fire chief," Ms. Ramos-Evinger said.
Board member Mike Kreeger said policy prohibits board members from speaking directly to staff members without the fire chief's approval. 
"We as board members do not supervise any employee here except for one, and that is the fire chief," Mr. Kreeger told Mr. Williams. 
"We are not over any employee from a managerial perspective whatsoever. The only person we have supervision over is the fire chief. It's the chief's job to manage the day-to-day operation of the fire district through his command staff. I do not have communication with the staff without the chief's permission." 
Mr. Williams told Mr. Kreeger that it was his choice to not speak with fire district employees. 
"I think you are misunderstood on what communication we have that you don't have," Mr. Kreeger said. "Because it's none. We don't show up at fire stations unannounced. It's not our job to do that." 
Mr. Williams said the board "can't make a policy, which is against the laws of our country. Freedom of speech cannot be controlled by a board policy." 
He said he's not trying to go that route but said all he is asking is that the board conduct a vote that he is a regular board member, or not a regular board member. He added that if he is a regular board member, he should have the same treatment of talking to the chief one-on-one without stipulations. 
Mr. DeMonaco said he voted against removing Mr. Williams' stipulation on talking to the chief because he feels the chief should be able to record a conversation with Mr. Williams, or with any board member if the chief feels he is in a position to have to record the conversation. 
Acting Chief Dave Williams, who will become permanent fire chief on Dec. 31, said he is comfortable talking directly to Mr. Williams without stipulations, but thanked the board for allowing him to make the decision to decide to record conversations with board members if he feels it's necessary. 
Mr. Williams, a retired fire captain with Chino Valley Fire who was elected to the board in 2018, was first censured in February 2019 on allegations of harassing fire district employees and trying to coerce a board clerk to make copies for personal use. 
A second censure was issued four months later for not following the stipulations set in the first censure.
A third censure was approved by the board in October 2019 after Mr. Williams reportedly violated two board policies by suggesting fire district employees are not capable of doing their jobs and presented a statement that included charges or complaints against employees. 
Mr. Williams said at the board's Sept. 11, 2019 meeting that now-retired Chino Valley Fire District Chief Tim Shackelford was "incompetent" and that Chino Valley firefighters were inadequately trained in firefighting, referring to the July 28, 2019 "Star Fire" in Chino Hills that scorched 156 acres and destroyed one multi-million dollar home.
Board members said Mr. Williams violated board policy by bringing up criticism of district employees at a public meeting.
On Oct. 2, 2019, Mr. Williams told Chief Shackleford he wasn't going to abide by any stipulations of the censures, saying only a judge has the authority to make him do so.