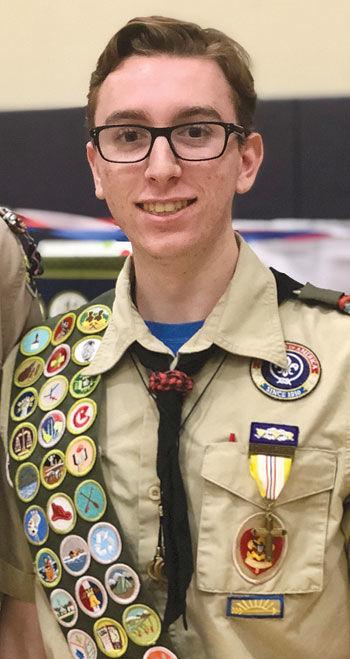 Matthew Mark Glaudini, 16, a junior at Chino Hills High, achieved the Eagle Scout Award after passing his Eagle Board of Review on May 14. Matthew, the son of Mark and Amy Glaudini of Chino, is a member of Troop 2399 of the California Inland Empire Council, Boy Scouts of America. 
He has earned 33 merit badges and held numerous leadership positions, including Junior Assistant Scoutmaster, Senior Patrol Leader, Patrol Leader, and Chaplain's Aid. In 2016, he attended National Youth Leadership Training (NYLT), and in 2019, he attended National Advanced Leadership Training at Philmont Scout Ranch in New Mexico. He has served on the staff of the NYLT five times.
For his Eagle Scout project, Matthew led 55 Scouts and adults in weed abatement, ground leveling, application of weed fabric, and laying down crushed rock to create a useable space for seven picnic tables at St. Paul the Apostle Catholic Church in Chino Hills. It took 367 hours to complete the project.
After Matthew graduates from high school, he plans to attend college and major in history. He also plans to pursue a teaching credential, with a goal of becoming a high school teacher.
***
Mihir Mandapaka, a student at Canyon Hills Junior High in Chino Hills, is the winner in the Disease and Medical Terminologies categories of the Junior Upcoming Medical Professionals (JUMP) program held this spring. JUMP, for seventh and eighth graders who want to pursue health care careers, is sponsored by the Inland Health Professions Coalition at Reach Out to help develop an interest in the medical field.
***
Brandon Liang of Chino Hills, has been named to the Dean's List at Northeastern University in Boston for the spring semester that ended in April. To make the list, students must have a grade point average of 3.5 or greater on a scale of 4 and to carry no single grade lower than a C- during the course of their college career. Mr. Liang is majoring in computer science.