Jonah Wesley Briones, the son of Russell and Terrie Briones of Chino, recently graduated from the Naval Recruit Training Center in Great Lakes, Illinois. The graduation ceremony was cancelled because of the coronavirus pandemic. Mr. Briones attended Newman Elementary, Ramona Junior High and graduated from Don Lugo High. He ran track at Don Lugo. Mr. Briones is currently training as a fire controlman to provide combat surface to surface, surface to air missile and gun fire control by using a sophisticated computer and electronic system. He and his wife, Illana, have two children, Lyla Joy, 5, and infant son, Ezra James.
***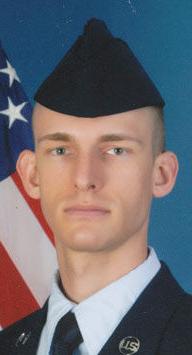 Airman Nicholas C. Burr graduated from basic military training April 23 at Lackland Air Force Base in San Antonio, Texas. The airman and his fellow graduates had to wear face masks during their graduation ceremony because of the coronavirus pandemic. Families were not allowed to attend. Mr. Burr, the son of Karen and David Burr, grew up in Chino Hills. He attended Litel Elementary, Canyon Hills Junior High and graduated from Ayala High in 2016 where he competed in cross country and water polo. He attended Fullerton Junior College and Chaffey College before joining the Air Force.
He is currently attending technical school in Shepparel, Texas for avionics, electronics and environmental systems. 
*** 
Two Chino Valley residents earned degrees from Boston University in May 2020.
Chino resident Haesu Kim earned a master of education degree in Education Leadership and Policy studies. Chino Hills resident Aaron Yong earned a bachelor's degree in Business Administration and Management. Nearly 7,000 students earned degrees in May from Boston University in Boston, Massachusetts.
Chino Hills resident Daryll Macasieb was named to the Champlain College President's List for the 2020 spring semester. Mr. Macasieb is majoring in computer forensics and digital investigations.
Students must have a 4.0 grade point average or higher to earn a spot on the President's List. Champlain College in located in Burlington, Virginia. 
*** 
Ayala High graduate Isiah Flowers was named to the Dean's List for the 2020 spring semester at Benedictine College in Atchison, Kansas. Students must carry a minimum of 12 hours with a grade point average of 3.5 or higher earn a spot on the Dean's List. 
*** 
Canyon Hills Junior High eighth-grader Klaren Suh started a charity to benefit homeless students in the Chino Valley Unified School District. She started a Bonfire website that sells a "2GatherAnother" crewneck T-shirt, pullover hooded sweatshirt or classic T-shirt. 
"I wanted to start this charity because first I heard that about 1,500 students were homeless in the Chino Valley school district," Klaren said. "As a student with a similar age as those students, I wanted to help them out somehow. Since it is back to school time, I wanted to create care packages for them by raising a small amount of funds to start."