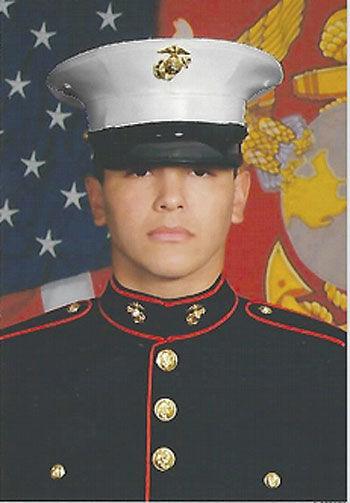 Ethan Manuel Burgueno, son of Chino Hills residents Christina and Oscar Burgueno and brother of Oscar Jr. and Damien, graduated April 3 from Marine Boot Camp at Camp Pendleton after completing basic training. He was a member of the New Marines of Delta Company, 1st Recruit Training Battalion. 
The public graduation ceremony was canceled because of coronavirus, and the event was live streamed on Facebook. He will attend infantry school in San Diego after a mandatory 14-day quarantine. 
Mr. Burgueno attended Glenmeade Elementary and Townsend Junior High, both in Chino Hills, and graduated from Chino Hills High where he participated in wrestling, track and varsity football, earning All Baseline League Honors, CIF and Most Valuable Defensive Football Player while a junior and senior on the varsity team.
***
Chino residents Derek and Nicole Gumaer welcomed a son, Ezekiel James Gumaer, who was born March 17 at Kaiser Hospital in Ontario. He weighed 9 pounds, 5 ounces and was 21 inches long. Paternal grandparents are Dennis and Denise Gumaer of Chino and maternal grandparents are Kenny and Mandy Knudson of Azel, Texas.