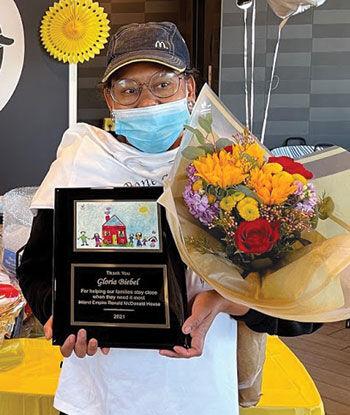 Gloria Biebel, a crew member of the McDonald's restaurant on Grand Avenue in Chino, was a match to provide bone marrow in February for her mother who was diagnosed last summer with a rare bone disorder. Ms. Biebel's co-workers and franchise owner Elizabeth Yuen made a $500 donation to the Inland Empire chapter of the Ronald McDonald House during a recent ceremony honoring Ms. Biebel. 
Ms. Biebel spent the first 11 months of her life at Georgetown University Hospital in Washington D.C. after she was born prematurely. 
Her family benefitted from services provided by the Georgetown Ronald McDonald House and Ms. Biebel's coworkers felt it was fitting to make a donation in her name to the local chapter, which is currently providing support to 14 families. 
***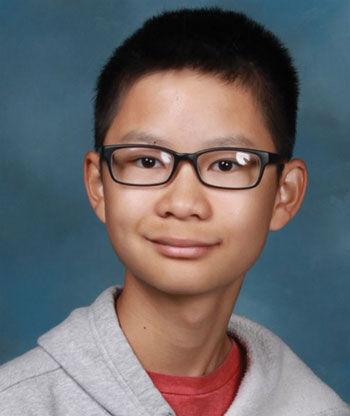 Ayala High School senior Stanley Chen was awarded a $40,000 college scholarship through the Southern California Edison Scholars program. 
In his winning video for the scholarship, Stanley explained his idea to create CO2 filtration systems that break down double bonds and emit oxygen into the atmosphere; thus, mediating climate change by recycling carbon emissions.
Stanley is president of the National Math Honor Society and leads the clarinet section at Ayala High.
He plans to major in chemical engineering next year at an undisclosed college.
Through the Edison Scholars program, 30 scholarships of $40,000 each are awarded annually to high-achieving students within Southern California Edison's service area. Applicants must pursue advanced studies in a STEM field and show financial need for college. Qualifying majors include computer and information systems, engineering, engineering technology, management information systems, mathematics, natural resources and conservation and physical sciences.
Edison International has awarded more than $12.3 million in scholarships to 700 students through the Edison Scholars program since 2006.
*** 
Chino Valley Fire District introduced its newest firefighter-paramedics and announced several employee promotions Wednesday night at its monthly fire board meeting.
New firefighter-paramedics are Joshua Baldwin, Fernando Cardona, Frank Flores, Jacob Feenstra, Caleb Guinn, Brian Kalousek, Christian Noboa, Marcus Phillips, Steven Sands and Kenneth Skinner.
Employees promoted, and their new titles, are Engineer Adam Barker, Engineer Matt Robertson, Engineer Ethan Sanders, Capt. Travis Foster, Capt. Arnold Klement and Capt. Travis Young.
*** 
Several Ayala High student-athletes signed national letters on intent to their college choices during a Thursday morning ceremony at the school. Student-athletes and their colleges are Cole Koniarsky, baseball, Cal State Fullerton; Lucas Solis, baseball, University of California, San Diego; Andrew Aguilar, football, Northern State University; Mateo Matthews, baseball, Wagner College; Emily Leavitt, softball, University of Minnesota, Twin Cities; Abigail Cruz, softball, Yavapai College; Marissa Hassis, softball, University of California, San Diego; Riley Shuler, cheerleading, Concordia University; Alyssa Alano, softball, St. Mary's College; Daniel Young, soccer, University of Wisconsin, Superior; and Lauren LeMaster, softball, University of St. Mary-San Diego. 
---