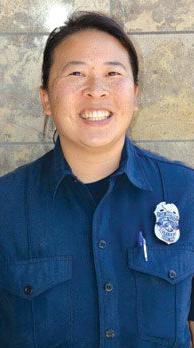 Fire inspector Tori Jung was named the Chino Valley Fire District Employee of the Year. She joined the fire district in December 2018, and is responsible for conducting life and safety inspections, new construction inspection, enforcement inspections related to weed abatement, and fireworks enforcement. Ms. Jung is a community liaison officer and a fire investigator trainee. She graduated from Glen A. Wilson High School in Hacienda Heights, earned an associate's degree in fire technology at Mt. San Antonio College in Walnut and a bachelor's degree in fire protection administration from Cal State Los Angeles. Ms. Jung is a La Verne resident. 
***
Chino Valley Fire District Deputy Chief Scott Atkinson completed the U.S. Fire Administration National Fire Academy Executive Officer Program, the district announced. The Executive Officer Program is a four-year program that enhances professional development through a series of graduate-level courses and applied research projects.
Deputy Chief Atkinson's projects focused on identifying and reducing post-traumatic stress for Chino Valley Fire District personnel, fire preparedness for the Wildland Urban Interface community of Sleepy Hollow and identifying the expectations and training needs for a Chino Valley Fire District Chief Officer operating in Emergency Operations Centers.
"The program is extremely difficult, especially when balanced with a full-time job and family. The successful completion of the program shows Deputy Chief
Atkinson's dedication to the fire service, our personnel, and the residents in our communities," Chino Valley Fire District Board President Sarah Ramos-Evinger said.
*** 
Sarah Velasquez of Chino was named to the spring semester Chancellor's List for 2021 by the
Office of the Registrar at the University of Minnesota-Crookston. Students must have a 4.0 grade point average with at least 12 letter-graded credits to earn a spot on the Chancellor's List. 
*** 
Chino Hills resident Edward Alan Lomasney was named to the Spring 2021 Dean's List at
Missouri Valley College in Marshall, Missouri. Students must have a 3.3 grade point average or higher with at least 12 graded hours for a spot on the Dean's List.
***
Julia Craig, a Chino Hills High graduate, was named an All-Middle Atlantic Conference Commonwealth honorable mention in women's softball at Lebanon Valley College in Annville, Pennsylvania. She had a .320 batting average, 20 RBIs and a team-high 20 runs scored during the 2021 season. Lebanon Valley College finished with a 16-16 record and competed in the Middle Atlantic Conference Commonwealth Division III playoffs.
*** 
Sisters Allyssa Alano and Ryanna Alano, who are both members of the Ayala High girls' softball team in Chino Hills, will compete this month for the Philippines team at the TCS International Softball Tournament in Colorado. The four-day tournament will feature teams from the U.S., Mexico, Japan, Canada, Germany, Italy, Korea, Spain, Middle East and Puerto Rico.
Allyssa, who recently graduated from Ayala, signed with Saint Mary's College, and Ryanna is a two-time USA Softball All-American.