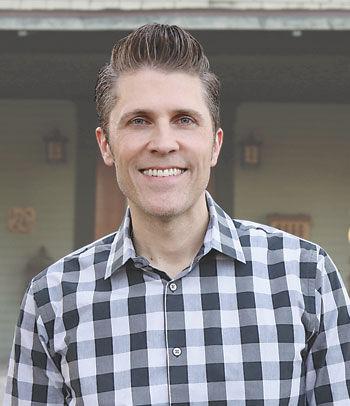 Sometimes I happen upon a photo from the Champion archives that really draws me in.  My eyes fixate on the details of each building, the cars parked on the street and the people walking by. 
I wonder what life in Chino may have been like when the photo was taken, and often wish I could dive into the photo to experience it.  One such photo is an image taken of Downtown Chino in 1955.  Chino's bustling downtown area was located on D Street, as well as Sixth and Seventh streets.  This was the place where those living in Chino would regularly gather to shop, hang out, and celebrate events. Chino High students would walk downtown from the campus for rallies held in the middle of the intersections.  Parades marched down the streets as citizens stood watch from the sidewalks.  Cars filled with teens listening to their AM radios cruised down D Street, which at one time continued east, past Central Avenue.  Groceries were purchased at markets such as Foodland and Dodge Market on Sixth Street and Vance's Grocery on the corner of Seventh and D streets, where Royalty Cakes bakes delicious goodies today.  Drug stores such as Reher's Pharmacy on Sixth  and Moody's Drug Store on D had soda counters that served meals as well as fountain drinks and ice cream, which could be enjoyed while reading a Superman comic book that sold on their racks for ten cents.  
Herb's Hardware on D had anything you needed for your home renovation or repairs, and also sold appliances and other household items.  Bank of America operated on the corner of Sixth and D in the majestic building it had been in since the institution came to Chino in 1928.  Today the building is the home of the Chino Youth Museum.  
There were clothing stores, bakeries, shoe stores, dry cleaners, restaurants, and most everything that the city needed within those three blocks.  I would have loved to walk down D Street laughing with my pals and gazing into the store windows. 
In 1887, when Chino's founder Richard Gird laid out his master plan, it included 640 acres.  By 1955, Chino's boundaries had expanded to 3,240 acres and was continuing to grow.  
The Champion Newspaper, which cost a dime an issue at that time, reported that Chino had progressed again in 1955, with the population and all areas growing in numbers from the previous year.  
New homes were needed as the population had increased from 6,800 in 1953 to over 7,500.  The increase may not sound like much compared to our current city population of over 95,000 in Chino alone, but at that time, 700 new residents were quite a bit for a small town.  Three hundred & twenty eight of those 700 were kids enrolling in Chino's suddenly crowded school classrooms.  New two bedroom one bath homes were being built on Chino Avenue at Oaks, and selling for $8,995.  Twenty five miles of new sewer lines were installed underground, at a cost of $300,000, providing service to 99 percent of Chino. With growth came the need for modernization.  
Chino had one supermarket in town, called Shopright, which opened in 1954 and was located on Riverside Drive and Yorba Avenue, where the current Stater Bros. market operates today.  T-bone steaks were selling for 89 cents a pound, eggs were 43 cents a dozen and peanut butter was 39 cents for a 12-ounce jar.  The store offered a wide variety of foods, including Mexican and Chinese.
M.K. Smith Chevrolet was operating from it's new car showroom on the corner of 5th and D and their used car lot on Central Avenue and Riverside Drive, where they are today.  A new Chevy Bel Air could be purchased for $1,932.
Drive-through dairies such as Foss Bros., Scott Bros. and Arvidson Dairy were common places to stop for milk, cheese, bread and other groceries. They offered quick one- stop service without having to leave your car. 
In 1955, the Champion reported news stories along with engagements, births, deaths, anniversaries, birthday parties, awards of merit, military achievements and any ol' event that one might wish to share, along with the precise address of the person or party mentioned.  There wasn't much concern for personal security at that time or that divulging the address of a person might be unusual.  Chino was a city where people knew each other well and hardly ever locked their doors at night.  It was an era where kids rode their bikes or horses all over town until it was time to come home – just before dinner. The community was involved with and enjoyed the company of one another at events such as the annual Rancho Ride and Junior Fair and Dairy Festival. While life today can seem rushed or full of indirect connections through technology, I try to flash back to those moments of yesteryear and hope to inspire others to experience those simpler, yet meaningful times today. 
---
What are your memories of growing up in Chino? Share your Chino memories and feedback by email at Chinomemories@gmail.com.