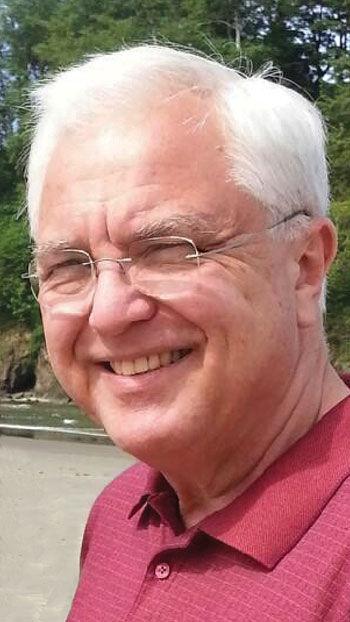 It's hard for me to accept that Al McCombs is gone. I worked for and was later partners with him for 20 years.
In our last email exchange in December, he and I were looking forward to getting together after the COVID-19 virus was under control and the lockdowns had eased.  We had lunch together most Thursdays for as long as I can remember prior to my retirement in June 2017.  I owed him a lunch too.
My wife and I retired to the Houston, Texas area in November 2017 to be closer to our grandchildren. So, my lunches (and dinners) with Al had to be planned in advance. Sadly, I have a plane ticket for May.
During our lunches we often discussed what was happening in the Chino Valley, the newspaper business, local, state and national politics, problems and opportunities. I miss those lunches. 
I miss them even more now that there won't be any others.
Al was an old-fashioned news guy at heart. He believed news should be as unbiased as possible and opinion should be kept on the opinion pages. Over the years, he was always asking his managing editors and reporters to write shorter ("tighter") stories with all the relevant information included. 
By writing shorter stories, we could include more news in every issue. Most weeks we had stories left-over for lack of space.
I'm pretty sure he loved being the first one to know what was going on in the community. He seemed to know just about everyone in town. He often amazed me and the newsroom staff about projects in the works and new businesses arriving. He would share his tips with the news department and they would turn them into stories and the ad department too hoping to bring in some advertising.
His "Here and There" column of news briefs were newsy items that were possible future stories or late breaking news headlines or funny overheard "quotes" from around town. It was popular enough some readers have told me that column was the first thing they read every week.
He wasn't afraid to share his opinions either, but it was always on the opinion page (except for his occasional theatre reviews which appeared on the entertainment page). His opinion page also included the long-running Rolltop Roundup column. I tried to talk him into choosing his favorites and self-publishing them in book form, but he never went for it. I'm wishing I had that book now.
Al was great to work for and with. He could be strict but I always found him to be fair. Many of his employees over the years were "boomerangs." 
They had left the Champion and later came back to work for him again. I was one too. I think that's a high compliment for any boss.
He was a frugal business owner. Al worked to keep the Champion independent and operating. He tried not to lease anything. He hated recurring payments. 
When economic recessions came knocking, the Champion was able to weather the storm. There wasn't a big corporate parent waiting in the wings to help out in a pinch. He once told me having a successful Progress Edition (it was one issue out of 52 published annually) in his early years could make the difference in making a profit for the year or not.
Al was still actively involved in publishing the Champion after he named me publisher in 2006 and he became publisher emeritus. After all, he was still the majority owner. Previously, I was co-publisher.
When people asked what I did my stock answer was "Whatever Al doesn't want to do." You see, he loved attending community meetings, both social and political and being involved in the community. I took care of the nuts and bolts of running the newspaper.
Al told me once if I hadn't have come back to work for him in 2000, he would have sold the paper. Our partnership helped Al to keep providing the Chino Valley with an award winning, locally owned community newspaper under his watchful eye. 
I'm glad to have known him and to have been a part of it. I'll miss you Al.