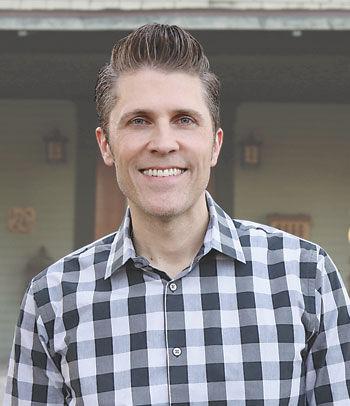 Chino lost an icon last week, when Al McCombs passed away on March 12, 2021.  Many have called him "Mr. Chino," "The Face of Chino," and other various names relating to his true love of our city.  I called him mentor, and friend.  I originally wrote the story below in October 2020, as an admiration piece for my monthly column.  After Al read it, he called me and told me he didn't feel it was appropriate to publish.  He felt my words of praise were unnecessary and with a chuckle, he told me I should save it to publish after he was gone.  I never thought that only 6 months later I would be publishing the story.  Al's request for me not to publish the story is a perfect example of his humble nature.  He quietly gave to numerous charities, spoke at many events, helped most anyone who called upon him, and yet he never wanted recognition.  I am very thankful to have been able to spend the last five years with Al.  He filled me up with as much history of Chino as my mind could hold, and I hope to be able to continue to share what he shared with the people of Chino.  It will be strange not to have my column under Al's column…a place it has been for many years.  My column will now be named "Chino Memories Roundup," in honor of Al McCombs, and his 65 years of writing his "Rolltop Roundup" column.  Thank you Al for investing so much time in me and trusting me with all of the resources you saved in your decades-full treasure trove of Chino memories.   I was able to have a video call with Al three days before he passed away, and while he was not able to speak, he smiled at me and gave me a salute with his hand to his forehead.  That was a salute I will remember forever, and today I salute you, Al.
t's always great fun visiting with Al McCombs, the Publisher Emeritus at Champion Publications. We first met in 2016 at the newspaper office located on Ninth Street, just north of D Street (behind the Carolyn Owens Center). The Champion Publications building is the former Chino Post Office. The interior is filled with file cabinets and boxes that are stuffed with research and old newspapers. The walls are decorated with framed photos of Chino dignitaries, buildings of the past and maps of our city. Each time I sit with Al, I learn something new. Allen McCombs is a smart man, with a mind filled with stories of the past, a mind that still holds on to details and names that most others would have forgotten.  He has shared much of his knowledge and memories with me, along with hundreds of photos that were once used by the publication he has devoted the majority of his life to.  It's through these memories, that we quickly became friends.
Al McCombs grew up in Berkeley, California, and came to Chino with his wife Gretchen in 1956 to purchase The Chino Champion Newspaper. He was just 27 years old, but had a Bachelor's degree in journalism from Stanford, had worked in the newspaper business for several years, and was hungry to run a newspaper of his own. The first issue he published was the October 4, 1956 issue, and in that issue he increased the number of pages from 12 to 16 and also made the paper available to every home – even non-subscribers.His decision increased publication for that paper to 5,400 homes, more than double the standard publication. In 1994, newspaper distribution was increased in Chino and Chino Hills, allowing all homes, including non-subscribers, to receive a weekly Champion newspaper.
In 1971, a Chino youth threw a fire bomb into the newly remodeled Champion offices and the fire gutted the building.  Al was not going to allow a fire to slow him or his newspaper down. He moved publication to a temporary location, rebuilt the Champion office and moved forward.
Al would often listen to police calls on the radio to scoop a story, and would drive to a scene to get that story for the people of Chino.  He also had contacts at the ambulance company who informed him of calls they received, which gave him early notice to catch a news story.  He was always on call for the newspaper.  The city of Chino had become his family, and he made sure his family was well informed.
Allen McCombs turned over management of Champion Publications to publisher Bruce Wood in 2006, and remained on staff of The Champion as Publisher Emeritus. 
In 2017, he sold the newspaper business to Will Fleet, who is the current publisher.  All the while, Al never stopped writing his witty and informative weekly Rolltop Roundup column, and continues to edit the Commentary section.  I have been honored to have my Chino Memories column sit below his story each month since 2017.  Each Friday night I watch for my Chino Champion to be delivered, and then run after it to pull it open and see what Al McCombs has written.  It's a tradition for me, and one that I know many others share and love. Thank you Al McCombs for giving us 64 years of news, entertainment and thoughts…looking forward to reading many more of your stories, and hearing them during our breakfasts at the Cock-A-Doodle.
---
Share your Chino memories and feedback by email at Chinomemories@gmail.com. Kerry Cisneroz, a longtime Chino Valley resident, enjoys sharing memories and nostalgia of the community, which can be found in his Facebook group, "Chino Memories – Yesterday & Today."