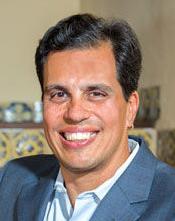 he recent Blue Ridge Fire, coming during an unprecedented year of wildfires in California and which burned some 14,000 acres, is the latest reminder of the challenges embodied in the interface between urban and wildland areas.  It is one of a string of major conflagrations in the Chino Hills area over roughly a century. Here we take a brief look at the history of some of the most significant blazes, almost all under hot Santa Ana wind conditions.
It was not until there was some development in our area that fires posed a substantial threat to life and property.  In June 1927, a few years after the first residential tracts of Sleepy Hollow and Mountain View Estates were opened in Carbon Canyon, a fire protection plan was established.  Just two months later, a fire, the second in the area that year, erupted on a cattle ranch and consumed 500 acres at the east end of the canyon and to the north.
In mid-November 1929, a year after a fire patrol was created there, an arson fire was set where Olinda Village is today on the Orange County side of Carbon Canyon.  The blaze consumed some 5,000 acres, destroying oil works, a home in the canyon and other property.  During the Great Depression and World War II periods there were some smaller fires, burning up to about 500 acres, but the next big blaze struck in 1958.
In mid-October, a blaze started at a Sleepy Hollow residence and, though only lasting five hours and burning 300 acres, it destroyed 32 structures, including the hilltop home of David Purington, whose parents and their partners subdivided the neighborhood some thirty-five years prior, and many cabins and buildings at the Workmen's Circle Camp adjacent to Sleepy Hollow to the east where the Hillcrest tract is located now.  
In late October 1978, an illegal military tracer bullet fired at the western entrance to the Aerojet weapons testing area in Soquel Canyon sparked a 5,600-acre blaze, 20% in San Bernardino County and the remainder in Orange County.  Despite close calls in several areas, including Sleepy Hollow and Mountain View Estates, as well as parts of Yorba Linda, no homes were destroyed.
In November 1980, several fires took place.  At the beginning of the month, one broke out at a gravel pit near the 71/91 interchange and raced north through what soon became Chino Hills State Park, stopping just south of the Los Serranos Country Club and Aerojet.  It was soon followed by a 135-acre fire in Carbon Canyon between Western Hills Oaks and Mountain View Estates, though, in both cases, property damage was minimal.  Two weeks later, a horse-rider tossed a cigarette into brush at the old Workmen's Circle Camp site, also briefly the home of the bizarre Ski Villa project with its plastic needle ski slope, and launched a blaze that devoured 8,500 acres, though with little damage.
At the end of June 1990, a transient deliberately started a fire at Olinda Village in Orange County that spread to nearly 7,000 acres, with about 15% in Orange County and the remainder in the San Bernardino County portions of Carbon Canyon, and destroyed 14 homes.  Tragically, one of those victims was David Purington, who suffered the same fate that afflicted him and his family over three decades before.
In mid-November 2008 came the Freeway Complex fire, which included the merging of a large conflagration started along the 91 Freeway near where the Blue Ridge started and a separate fire near the Olinda Alpha Landfill in Brea, roared through 30,000 acres, destroying 314 residences, most in Anaheim Hills and Yorba Linda, with a few lost on the Brea side of Carbon Canyon.
The threat of wildfires in the Chino Hills area have always existed, but are heightened by regularly dry and hot conditions, abundant fuels, climate change, increasing development and other factors.  Fortunately, preparation, planning, coordination and response have improved dramatically over the years, though larger and more frequent blazes pose continuing challenges to these efforts.