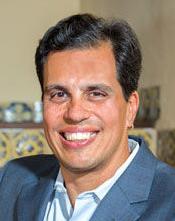 As the City of Chino Hills approaches its 30th anniversary as an incorporated city next year, a major aspect of its history before cityhood is its equestrian heritage.  The city-owned McCoy Equestrian and Recreation Center, on what was a renowned Arabian horse breeding facility, is a tangible reminder of that history.  The equestrian district to the west along English Road, named for saddle horse breeder Revel English of the Sierra Vista Stock Farm, maintains that heritage as well.  The gated Payne Ranch tract was also a horse breeding farm of distinction decades ago.
South of these locations is the site, still undeveloped south of where Peyton Drive and Woodview Road meet, of an early ranch, owned and developed by the first American to raise and breed Arabian horses: Chicago financier Albert W. Harris.  Born in Cincinnati to banker Norman W. Harris and his first wife, Jacintha, Albert grew up in the Windy City, where his father, in 1882, established N.W. Harris and Company, a bank that grew to massive success in ensuing decades.  Albert, who graduated from a business college in Illinois, joined the firm soon after and assisted in its spectacular growth.
Known after 1907 as Harris Trust and Savings Bank, the institution had over $11 million in assets and some 150 employees by the end of the first decade of the 20th century and eased turmoil during a depression by depositing surplus funds in other Chicago banks to keep them afloat.  Norman Harris retired and became board chairman, while handing over day-to-day management to his son.  An early initiative of Albert's was the creation of a savings and profit-sharing plan for employees and he made sure his bank was one of the first members of the Federal Reserve system.  Mr. Harris also oversaw the 1915 creation of a foundation, the Chicago Community Trust, which today has nearly $3 billion in its endowment.  
Mr. Harris stepped down as president in 1923, though he retained a position of chairman of the board.  By the end of that decade, the bank had $106 million in assets and, despite the Great Depression it tripled that amount by the end of the Thirties. Mr.  Harris retired as chairman in 1943, but his bank doubled its assets during the war years and through the end of the decade.  A major reason why he scaled back his involvement while only in his mid-fifties was his consuming interests in horses, which began with his first purchase of one in his mid-twenties.
Reputedly the last person in Chicago to commute by horse-and-buggy rather than in an automobile, Mr. Harris organized, in 1910, a 1,700-mile prairie schooner trip from Los Angeles, where he'd recently purchased a winter home, to Williams Bay, Wisconsin, where he owned a horse ranch, called Kemah.  The 140-acre property had cattle, purebred dogs, mustangs and, most notably, Arabian horses.  The farm was donated by Harris to the Chicago Boys Club and it is now a golf course and residential community.
Spending more time in greater Los Angeles, Mr. Harris bought 170 acres, said to be the last major land sale on the Chino Ranch by the Chino Land and Water Company, in April 1927.  The parcel was adjacent on the west to Los Serranos Country Club, which opened just two years prior. Mr. Harris moved quickly in developing what he called Anazel Farm.  A large Spanish Colonial Revival house, barns, stables, employees' quarters, and other improvements were built in short order and prized Arabians were soon brought over from the Midwest.  In ensuing years, Mr. Harris became a fixture in the greater Los Angeles equestrian world, along with cereal magnate Will K. Kellogg, whose ranch is now the site of Cal Poly Pomona.
A ten-year president of the Arabian Horse Club of America and director of a registry for these magisterial animals, Mr. Harris wrote four books about Arabians.  In 1952, the 85-year-old sold the Chino Hills farm to Paul Greening, who became a major developer in the area.  Six years later, Mr. Harris died at 91. Though his name is largely forgotten here, his place in Chino Hills history should be remembered.