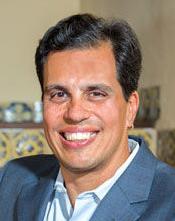 The first two censuses, 1930 and 1940, taken in Carbon Canyon offer a bit of interesting history concerning the early years of Sleepy Hollow, Mountain View Park (Canon Lane) and other parts of the Canyon.  In 1930, census-taker Roy Sebring visited on May 10 and stopped at 17 households, counting some 40 residents. His first stop was to Tidwell Oaks, the house and store of David and Velma Tidwell, situated where Rosemary Lane and Carbon Canyon Road meet in the center of the little hamlet.  
Across from that, in a house that still stands, was Elizabeth Purington, widow of the community's founder, Cleve, who died two years prior.  
She was listed as a "real estate saleslady" for the neighborhood and lived with her children David and Rosemary (namesake, of course, for the road mentioned above). The only other founders of the neighborhood to live there were George Wanley and his wife Grace.
Dixon Cecil, a native of Maryland, came to Sleepy Hollow with his wife Fanny early on and remained until he died in 1966 at age 89. One of the more interesting residents was James M. Beatty, "The Sage of Sleepy Hollow," who listed his job as "author" and who was an entertainer and wrote songs, poems and spiritualist literature before and during his years in Carbon Canyon.
Another denizen of note in 1930 was Fred Hiltscher, whose Austrian family was prominent as citrus and nut growers and in local politics in Fullerton. Hiltscher's family owned a ranch near Sleepy Hollow and he later established the Hiltscher/Carbon Canyon Mineral Springs near the Orange County border, which operated into the 1940s.
Just east of Sleepy Hollow was the recently established Camp Kinder Ring, formed by the Workmen's Circle, a left-wing Jewish organization, and its caretakers, William and Beulah Lorimer. Adjacent was Bernardo T. Belardes, foreman of a cattle ranch, likely where the Oak Tree Downs tract is now and whose mother was Ramona Yorba, from the prominent Orange County family with roots going back to the 18th century in California.
Ten years later, on April 18 and 20, 1940, Evelyn Banwell did her count, with Camp Kinder Ring's caretakers being Russian-born Sam and Sarah Cutler.  Again in the Oak Tree Downs vicinity were two ranches, the "Davis-Fuller" and the "Weisel," where father and son, Marion and Don Hitt, were the foremen.
"Sleepy Hollow Village" comprised 20 households and 46 persons, including the Tidwells.  Hungarian-born Margaret Marolda, counted with her late husband in 1930, was listed as living "at county boundary—Sunnybrook," presumably next to Carbon Creek.  Another holdover of a sort from a decade prior (along with the Cecils) were Reuben and Bertha Mead, occupying the home formerly lived in by their son Mitford and his wife Della, who had moved to San Diego.
There were quite a few new Hollowites, including Elton Neal, who, since at least 1935, was "proprietor and manager of a café and cabin sites" near the county border. Others were in their sixties and seventies and at or near retirement age (especially under the new Social Security system) while Jesse Null had an interesting job of "investigator, private."
At the "Mineral Bath Establishment" started by Hiltscher, was where manager Victor Baden resided with his wife and two sons, as well as attendant Galen Phipps and his wife Deva, the "managing housekeeper," masseur Ormsby Burgess and attendant Dora Blodgett.
The separate "Sunnybrook Subdivision" was on an "unnamed side road west of baths," likely East Lane on the south side of the creek. In addition to Mrs. Marolda, there were Archie Rosenbaum, operator of the café at La Vida Mineral Springs, and his wife Abbie, along with several others.  
Elsewhere, there were six residents at Mountain View Park, four men at the Brown Oil Wells, apparently near today's Carriage Hills, and the Chilibolost family, Basques who ran stock, perhaps sheep, where Western Hills Country Club is now.  
There were a couple of other farming or ranching households within the canyon, as well.
Next year the 1950 census is slated to be publicly released, so we'll look forward to seeing what changed concerning those living within Carbon Canyon over the preceding decade!