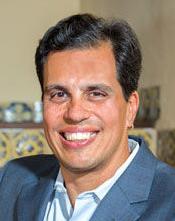 In 110 years at its Chino Hills location, Boys Republic has provided opportunities for troubled youth to find ways to turn their lives around through education, work, discipline and other aspects that seek to keep them from jail and prison.  Boys Republic was created at a time when social work, justice reform, and Progressive ideas about human betterment were becoming major forces in American life.  It remains one of the few alternatives for troubled youth outside of the juvenile hall and state prison system and is a unique success story.
A reform movement in dealing with what was then called "juvenile delinquency" gained momentum at the end of the 19th century as America's rapid growth, especially in cities, raised grave concerns about the impact of urbanization, industrialization, commercialization and other aspects on the nation's youth, especially young men.
William Reuben George was a remarkable success story in this world of reform on dealing with troubled youth when he began working with them in 1890 through a program developed by the New York Tribune newspaper.  George, born in 1866 in West Dryden, New York, in the Finger Lakes District northeast of Ithaca, went to New York City and was working in business when he took on the cause of working with young men in need of help.  
His initial efforts consisted of yearly summer camping trips to an area near his hometown, but he found that these did not provide the substantive change needed by his charges, so, in 1895, he organized George Junior Republic on land that became known as Freeville.  At the institution, young men received an education, but did so with required farm work so that it became known as a "farm school."  As importantly, a self-governing structure was established with students filling positions of responsibility in managing affairs at the republic.
Almost immediately, the idea was picked up in Los Angeles.  In August, May Elmore Bensen of South Los Angeles wrote an article in the Los Angeles Herald, noting that the state reform school in Whittier, which had opened several years before, was full and that rising numbers of delinquent children meant that "we will find vice, immorality and crime have eaten out like a cancer the life of our nation."  She asserted that "something must be done to save the young, or our nation is doomed."
It took another decade, but advocates including Superior Court Judge Curtis D. Wilber formed a Juvenile Court Association to work towards improving the handling of juvenile delinquency.  One of the directors of the association was Valentine Peyton, who was a large landowner in what became Chino Hills.  When it was decided to form a branch George Junior Republic, its founder was invited to Los Angeles in early 1908.  The owners of the San Fernando Land and Water Company offered the "boom hotel," built in 1874 when the town was created, though like many of its type, the hotel was never used.
Though the George Junior Republic was initiated with much fanfare, it was quickly obvious the hotel was inadequate and a new home was sought. Mr. Peyton, who was president of the Republic's board of trustees and Margaret Fowler of Pasadena were instrumental in securing over 200 acres (another 100-plus were added shortly afterward) in early 1909 from the Chino Land and Water Company. 
Notably, as the school moved on to the site, which was the original headquarters of the Rancho Santa Ana del Chino, newspaper articles reported in April that the old adobe was used as the boys' dormitory and carpenter shop with the office and girls' quarters in "the old ranch house."
The name California George Junior Republic was used almost immediately until 1921 when California Junior Republic was adopted.  That name remained until 1952 when Boys Republic was selected.  As for George, he died in 1936, justly celebrated for his important, pioneering work in the field.  The history of Boys Republic at Chino Hills, meanwhile, is fully told in a very fine book by longtime administrator Jerry Marcotte.  "Nothing Without Labor" remains the core of the Boys Republic mission to this day.