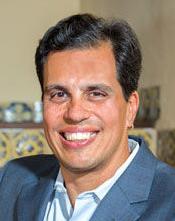 As mentioned in August's column, Los Serranos Country Club went through several owners in its first 23 years before Melville and Consuelo Rogers took ownership in spring 1948.  After about a year, however, they were ready to sell and Mel's brother, Ken, a golf pro, and Los Angeles realtor Clara Blum Bartlett were involved in finding new owners.
In what was undoubtedly a great shock to the Chino Valley's white residents, it was announced in June 1949 that a deal was being made to sell the club with a group of Black investors, said to include boxer Joe Luis, actor Eddie Anderson and athlete and future actor Woody Strode, from Los Angeles, led by Lemuel Pratt Grant (1893-1973). 
Grant, a native of Atlanta, came to the Angel City with his family in the first decade of the 20th century and became a brick mason. He served a stint at San Quentin for car theft, but turned his life around after his release in the early 1920s.  
He lived in South America in the mid-1920s and again a decade later, when he lived in Lima, Peru and worked as a brick contractor.  Shortly after returning in 1937, he and his family moved to San Gabriel where he owned a brick and tile business. 
Grant, later known as "L. Paul," was considered a pioneer golfer in the African-American community, playing in amateur tournaments, which led him by the end of the Forties to launch the Valparaiso (the name of Chile's second-largest city) Recreation Center and negotiate with the Rogerses to purchase Los Serranos.
The project was promoted in the Black-owned Los Angeles newspaper, the California Eagle, with a lengthy late April 1949 article calling it "a trend-setting example of community planning" and "designed for comfortable and economic recreation" for "the family, the club, [and] the civic and church groups." 
Grant and his associates had big plans, including a children's playground, sports courts and fields and more and, while the paper noted "you'll probably think it sounds fantastic," it lionized him as "a man of integrity and conservative tastes" who would run the club "in the strictest above board terms."
In June, when word got out in the Chino area, the response was swift.  A "Los Serranos Business Club" was launched to block the sale, though it was claimed "the racial factor is said not to have been a factor in the matter at all." Still, Grant and his group pushed forward with a full-page ad in the Eagle that month promoting a Fourth of July kick-off event and including photos of the clubhouse (the Joseph Bridger adobe house, built in the 1870s) and course. Citing "general progressive policies" in California, the ad emphasized that Valparaiso was "the most sensational inter-racial project ever undertaken by our [the Black] community."
In the July 7 edition of the paper, a full-page of photos of attendees enjoying the facility and a lengthy article praising the holiday happening were included.  It was reported that 3,000 persons participated and about 10% signed up for memberships. 
Later, Grant told the Eagle that he launched the project so golfers of any race could play there and that "there will definitely be no jim-crow at Valparaiso." A fall membership drive, and October picnic and a November "pre-Thanksgiving Fiesta" were held, but problems loomed.
It may be that membership lagged, as it was stated 3,500 were needed, but worse was that Rogerses were under an injunction from the California Public Utilities Commission, stemming from water issues, not to sell the property without its permission and, yet, made the $400,000 deal anyway.  On top of that, Ken Rogers and Clara Bartlett sued Mel and Consuelo Rogers and secured a judgment in mid-November that gave them control of the property.
In short order, the Valparaiso project collapsed and Bartlett, after acquiring the half-interest of Ken Rogers, took control of Los Serranos.  As for Grant, he remained at San Gabriel and ran his business for several more years and retired to Barstow, where he died in 1973.  Meantime, we'll continue the Los Serranos story in future columns.