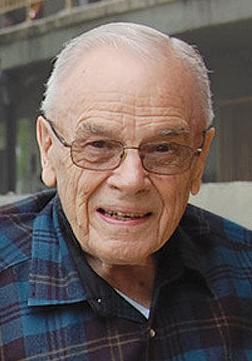 We hear them every year, and every year we relish their sound and their sentiment. It wouldn't be Christmas without them. So we're repeating them (on this Champion page from Dec. 22, 1965) for your enjoyment.
For these are the voices of Christmas, the meaning, the beauty and the warmth. May the voice never be stilled but continue to entrance the earth as a yearly reminder of peace and good will. . .
. . . And there were in the same country, shepherds abiding in the field, keeping watch over their flock by night. And lo, the angel of the Lord came upon them, and the glory of the Lord shown around them; and they were sore afraid. And the angel said  unto them, Fear not, for behold, I bring to you good tidings of great joy, which shall be to all people. For unto you is born this day in the city of David, a Savior, which is Christ the Lord. . .
. . .It came upon a midnight clear, That glorious song of old. From angels bending near the earth To touch their harps of gold; "Peace on the earth, goodwill to men. From heaven's all-gracious King." The world in solemn stillness lay. To hear the angels sing.
. . .At last the dinner was done, the cloth was cleared, the hearth swept, and the fire made up. Then all the Cratchit family drew around the hearth, in what Bob Cratchit called a circle, meaning half a one; and at Bob Cratchit's elbow stood the family display of glass—two tumblers, and a custard-cup without a handle.
These held the hot stuff from the jug, however, as well as golden goblets would have done; and Bob served it out with beaming looks; while the chestnuts on the fire sputtered and cracked noisily. Then Bob proposed:
"A merry Christmas to us all, my dears. God bless us!"
Which all the family re-echoes.
"God bless us every one!" said Tiny Tim, the last of all.
He sat very close to his father's side, upon his little stool. Bob held his withered little hand in his, as if he loved the child, and wished to keep him by his side, and dreaded that he might be taken from him.
"Spirit" said Scrooge, with an interest he had never felt before, "Tell me if Tiny Tim will live."
"I see a vacant seat," replied the Ghost, "in the poor chimney-corner and a crutch without an owner, carefully preserved. If these shadows remain unaltered by the Future, the child will die."
"No, no," said Scrooge. O, no, kind Spirit! Say he will be spared. . ."
. . .He was dressed all in fur, from his head to his foot.
And his clothes were all covered with ashes and soot; 
A bundle of toys he had flung on his back.
His eyes—how they twinkled! His dimples how merry!!
His cheeks were like roses, his nose like a cherry!
His droll little mouth was drawn up like a bow.
And the beard on his chin was as white as the snow;
The stump of a pipe he held tight in his teeth.
And the smoke it encircled his head like a wreath;
He had a broad face and a little round belly
That shook when he laughed, like a bowlful of jelly.
He was chubby and plump, a right jolly old elf.
And I laughed when I saw him, in spite of myself. . .
. . . Yes, Virginia, there is a Santa Claus. He exists as certainly as love and generosity and devotion exist, and you know that they abound and give to your life its highest beauty and joy. Alas, how dreary would be the world if there were no Santa Claus! It would be as dreary as if there were no Virginias. There would be no child-like faith, then, no poetry, no romance, to make tolerable this existence. 
These passages for your thought, taken from writing of everlasting beauty, are found in:
2. "It came Upon a Midnight Clear" by Edmund H. Sears, 1949.
3. "A Christmas Carol" by Charles Dickens, 1843.
4. "A Visit from St. Nicholas," by Clement Clarke Moore, 1822.
5. he New York Sun, Sept. 21, 1897, written by Frank B. Church
---
Thank you readers for your forebearance during these trying times. May 2021 see a quick return to our normal lives.
Josh Thompson, Marianne Napoles, Dawn Marks, Kim Madrid, Margarita Faundez, Jennifer Fleet, Suzanne Rojas, Michelle Roberts,
Erin Thompson, Patricia Walton.