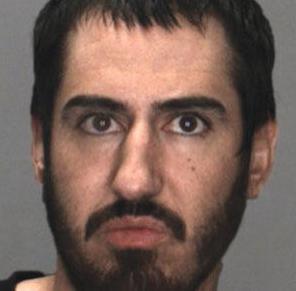 Man accused of firing gun
A 29-year-old man was arrested last Saturday on suspicion of firing several rounds in front of the Chino Police Department and at 10th Street and Walnut Avenue in Chino.
Stephen David Murphy was booked into the West Valley Detention Center in Rancho Cucamonga on charges of being a felon in possession of a handgun, willful discharge of a firearm with gross negligence and being a felon prohibited from owning ammunition. Bail was set at $100,000, county jail records show.
Officers were called around 2:30 p.m. to the 5300 block of Walnut Avenue about a man firing a gun. 
"The investigation found Mr. Murphy had originally entered the outer lobby of the police department and then exited, discharging several rounds in front of the police station," Chino police said in a statement. "Mr. Murphy then walked down 10th Street to Walnut Avenue where he fired several more rounds, one of which went through the window of a business on Walnut Avenue." 
Officers arrested the suspect, who had a loaded handgun concealed in his waistband, police said.
A search warrant served at a house where the suspect was staying was served. Officers found two rifles, ammunition and drug materials, police said.
"The handgun he had fired was found to have been stolen from a home in the City of Beaumont five years ago," the statement read.
Chino police said Mr. Murphy had been arrested in 2017 by the department for shooting at an inhabited dwelling. 
Anyone with information can call Chino Police Det. Mike Johnson at (909) 334-3179 or email mnjohnson@chinopd.org.
Murder suspects arrested
Pomona police arrested two men — a 28-year-old from Chino and a 24-year-old from Pomona — in connection with the murder of a 30-year-old man on April 22, 2020, police announced Wednesday.
Antonio Andrew Torres of Chino and Jonathan Gonzalez were booked Nov. 11 on suspicion of murder and conspiracy in the death of Jimmy Orozco in the 1000 block of E. Mission Boulevard in Pomona, police said.
The pair was arrested at 11:37 p.m. by Pomona police officers. 
The Los Angeles County District Attorney's office filed the charges. 
Mr. Torres is being held on $2 million bail, according to Los Angeles County jail records. He will appear in court on Dec. 15, jail records show.
Jail information on Mr. Gonzalez could not be located. 
Pomona police received a call at 1:30 a.m. about a call of shots fired, and a short time later, learned Mr. Orozco was dropped off at an undisclosed hospital. He died about 90 minutes later from a gunshot wound to the back, authorities said.
"Pomona investigators worked closely with the Los Angeles County District Attorney's office to secure a murder and conspiracy to commit murder filing for each suspect," Pomona police said in a statement. 
A motive for the shooting was not given.
Anyone with information can call Pomona Police Department at (909) 620-2155. 
DUI checkpoint held Friday
Chino Police conducted a DUI and driver's license checkpoint Friday night after Champion press time. 
Locations of checkpoints are not announced in advance.
"The safety of our community is and always will be our mission,"; said Sgt. Ted Olden. "We are looking for impaired drivers because driving under the influence is dangerous and puts others on the road at risk."
Officers screened drivers for signs of impairment from alcohol, drugs or prescription drugs. 
Drivers face up to $13,500 in fines and penalties for a first conviction, Sgt. Olden said.
Funding for the checkpoint comes from a grant by the California Office of Traffic Safety and the National Highway Transportation Safety Authority. 
Information: Chino Police Department, (909) 628-1234. 
Quarter-acre fire erupts
Firefighters extinguished a quarter-acre brush fire Monday afternoon on the northbound 71 Freeway between Butterfield Ranch Road and Pine Avenue, the Chino Valley Fire District reported.
"Chino Valley firefighters made a quick stop of a vegetation fire burning in light, flashy fuels," the district said in a statement.
Cal Fire firefighters assisted in the blaze.
One lane of the freeway was briefly closed, the fire district said.
The cause of the fire remains under investigation.