Advertising Legal Notices
PLACE YOUR LEGAL NOTICE
You can place your Legal Notice online by e-mailing your
notice to Legalads@championnewspapers.com
You can also bring your legal notice to our office located at:
13617 12th Street, Suite B, Chino CA 91710
For pricing or more information you may also call our
Legal Ad Department at (909) 628-5501, ext. 119
Monday -Thursday, 9 a.m. - 5 p.m. Fridays 9 a.m. - 1 p.m.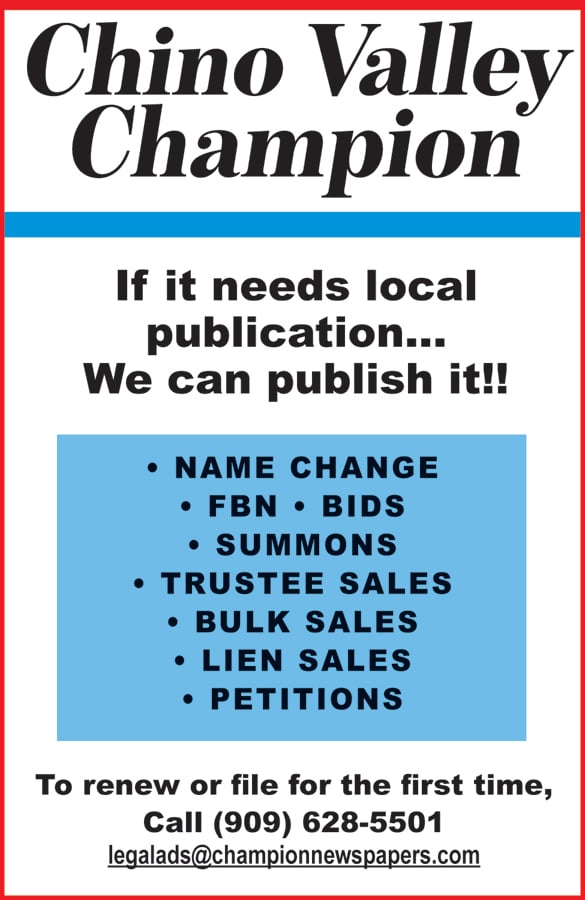 Champion Newspapers daily newsletter
Register to receive our free daily newsletter by email
The Champion's newsletter is emailed Monday through Friday
Breaking News
Would you like to receive our breaking news news? Signup today!
e-Edition Subscribers
e-Edition Only - $39.00 Year
This is the exact replica of our weekly printed paper.
Great for searching archives!
General Interest
Imported List: General Interest
News Updates
Would you like to receive our news updates? Signup today!