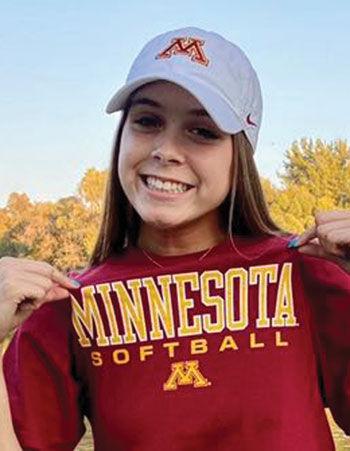 Chavez commits to Minnesota 
Chino Hills High softball player Kayla Chavez verbally committed to the University of Minnesota with a scholarship. 
Chavez played in 10 games during the shortened 2020 season because of coronavirus, hitting .562 with a team-high 18 hits in 36 plate appearances, and was the team leader in home runs (6) and RBIs (17).  
She also did not strikeout in any of the 10 games and walked three times. 
During the 2019 season, Chavez was second on the team with 13 home runs, second in doubles with 10, third in RBIs with 42 and third in hits with 45. 
That season, she only struck out five times in 118 at-bats. 
Youth flag football signups under way 
City of Chino is accepting signups for its youth flag football and youth rookie flag football leagues, scheduled for 5 to 9 p.m. Fridays Sept. 18 through Nov. 6 at Ayala Park, 14225 Central Ave., Chino. 
The leagues could be cancelled depending on what the city guidelines are at the time the league begins because of the coronavirus pandemic. Cost is $69 for Chino residents, $79 for non-residents.  The eight-week league will consist of practices and games.  The cost includes a T-shirt and award. 
Children born between 2007 and 2012 will compete in the youth flag football league and children born in 2012 or 2013 will take part in the rookie league. Information: team sideline.com/chino or call 334.3258.
Boxing show set for Nov. 22
This year's Chino Youth Boxing Foundation Gobbler Gloves show has been scheduled for 1 p.m. Sunday, Nov. 22, barring any set backs related to the coronavirus pandemic. 
Youth and young adult boxers from Chino Youth Boxing Club and Orange, Riverside, San Bernardino and Los Angeles counties, will compete in the show at the Chino Neighborhood Activity Center, 5201 D St. 
Spectator admission is $12 for anyone age 12 and older, $5 for children 6 to 11 and free for children 5 and younger. Information: Chino of Chino Community Services at 334-3260 or send an email to communityservices@cityofchino.org.