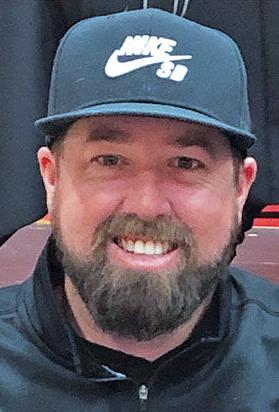 Ayala High hires girls soccer coach
Ayala High has hired Ryan Casey as its new girls' varsity head coach, the school announced in a statement Tuesday.
Coach Casey has 15 years coaching experience and obtained a U.S. Soccer National A Coaching License.
"I am very excited to be joining the Ayala Bulldog family," Coach Casey said. "I am looking forward to bringing my passion and knowledge of the game to the Ayala girls soccer program and bringing each player to their full potential as a student, an athlete and an overall person."
Ayala High finished with a record of 5-12-3 overall and 3-4-1 in the Palomares League to finish third in the six-team league.
The high school girls' soccer league is expected to begin Feb. 27.
Youth basketball clinics start today
City of Chino will host six-week basketball clinics for children ages 9 to 14 on Saturdays, starting Sept. 12. 
Classes are subject to cancellation because of the coronavirus pandemic. 
Cost is $59 for Chino residents, $69 for non-residents. 
Participants will receive a T-shirt and certificate. 
Clinics will be held at the Neighborhood Activity Center, 5201 D St., next to Chino City Hall. The clinic for 9 and 10 year olds will take place from 8 to 10 a.m.; 11 and 12 year olds from 10:15 a.m. to 12:15 p.m.; and 13 and 14 year olds from 12:30 to 2:30 p.m. 
Information: City of Chino, 334-3260. 
Men's basketball league to begin
City of Chino will offer its adult men's basketball league from 1 to 10 p.m. Sundays, Sept. 20 through Dec. 13 at the Neighborhood Activity Center, 5201 D St., Chino. 
The league could face cancellation based on current coronavirus pandemic restrictions. 
Cost is $345 per team, plus a $25 per game fee for referees. Players must be at least 18 years old. 
Teams will be placed in the Lower, Upper or Advanced leagues. 
Each team will play in 10 games. 
The top four teams in each divisions will advance to the playoffs. 
Players not living in Chino will pay a $10 non-resident fee. 
Chamber golf tournament Sept. 28
Chino Valley Chamber of Commerce will host its annual golf tournament Monday, Sept. 28 at Western Hills Country Club, 1800 Carbon Canyon Road in Chino Hills.
Cost is $149 a person, but a few spots for $129 remain, said Chamber President Zeb Welborn. 
Golfers will receive entry into the tournament, on-course prizes, goodie bags, entry into the virtual awards ceremony, raffle and auction.
Tee times will be staggered to allow for social distancing. 
A golf shirt is available for $29. Sponsorship opportunities are available. Proceeds will benefit the local business community, Mr. Welborn said.
Registration is being accepted at chinovalleycham ber.com.
Youth flag football signups under way 
City of Chino is accepting signups for its youth flag football and youth rookie flag football leagues, scheduled for 5 to 9 p.m. Fridays Sept. 18 through Nov. 6 at Ayala Park, 14225 Central Ave., Chino. 
The leagues could be cancelled depending on what the city guidelines are at the time the league begins because of the coronavirus pandemic. 
Cost is $69 for Chino residents, $79 for non-residents.  The eight-week league will consist of practices and games.  The cost includes a T-shirt and award. 
Children born between 2007 and 2012 will compete in the youth flag football league and children born in 2012 or 2013 will take part in the rookie league. Information: teamsideline.com/chino or call 334.3258.
Boxing show set for Nov. 22
This year's Chino Youth Boxing Foundation Gobbler Gloves show has been scheduled for 1 p.m. Sunday, Nov. 22, barring any set backs related to the coronavirus pandemic. 
Youth and young adult boxers from Chino Youth Boxing Club and Orange, Riverside, San Bernardino and Los Angeles counties, will compete in the show at the Chino Neighborhood Activity Center, 5201 D St. 
Spectator admission is $12 for anyone age 12 and older, $5 for children 6 to 11 and free for children 5 and younger. Information: Chino of Chino Community Services at 334-3260 or send an email to communityservices@cityof chino.org.
OCHS to co-host tournament
The Ontario Christian and Redlands East Valley high school girls' volleyball teams will co-host a preseason tournament Dec. 4 and 5 at Pearce Sports Center in San Bernardino. 
Teams competing in the CIF Open Division through Division 3 can participate in the tournament, scheduled a month before the CIF-Southern Section girls' volleyball schedule is set to begin. 
Games will be streamed live online. 
The event could be cancelled, pending coronavirus pandemic restrictions at the time of the event. 
---